Explore The History Of The Parkette Drive-In In Lexington, KY
The Parkette Drive-In is part of Lexington's history. We take great pride in our involvement in its restoration and are thrilled to see it once again thriving. The Parkette is known nationwide as a retro
drive-in restaurant
, and we're delighted to revive its vibrant history.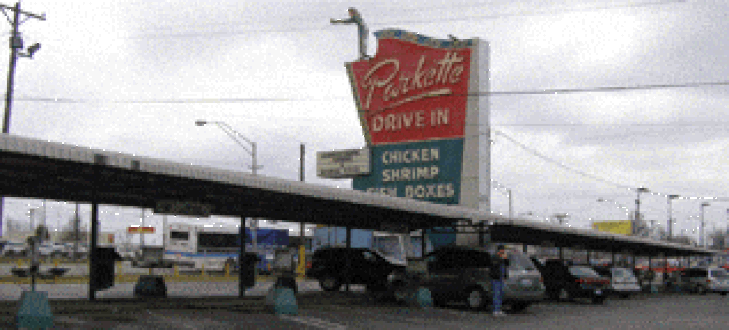 The Founder Of The Parkette
The history of the
Parkette Drive-In in Lexington, KY
, began with Joe Smiley. He is considered a pioneer and visionary in the restaurant industry and opened the Parkette on November 11, 1951. Joe created his own version of the double-decker hamburger and brought his idea from West Virginia; he called it the "Poor Boy," named after the life that he saw there. Joe said, "When the coal strikes were on, everybody was starving."
When Joe came to Lexington, he said, "Lord God, this town's wide open for a drive-in." Although there were only dirt roads and open spaces, Joe would not be denied, and the Parkette was born. On his opening night, a rainstorm blew through and he was afraid the customers would get stuck in the mud. He hired a few tow trucks to help folks out, and the Parkette became a mainstay for good food and great service.
Joe believed that good food at a good price would bring folks in. He was right, and we maintain that tradition today. We still use fresh ground beef and fresh chicken, and our customers count on Joe's original Famous Fried Chicken recipe.
The famous Parkette sign was built in 1957. It stands as a symbol of Lexington and a monument overlooking New Circle Road. For over 70 years, it has stood ready to serve all that pass by. The sign itself is a landmark and a point of reference for this area of the city.
The Parkette Drive-In opened in 1951, but the sign wasn't created until 1953 or 1954. It cost $10,000 to install, but today the same installation would be close to $100,000. It stands between three and four stories and is a landmark in the neighborhood. The Parkette Drive-In spends around $1,000 per year replacing transformers and lights to maintain this iconic beauty.
Parkette Drive-In Historical Facts
There are some surprising facts folks may not know about the history of the Parkette Drive-In:
Parkette's Famous Fried Chicken used to be called "Kentucky Fried Chicken."
At one time, there were two Parkettes in Lexington. The original, right here on New Circle Road (back then called the Belt Line), and one on Georgetown Road. The Georgetown Road location opened in 1957 but was sold in 1966.
When the Parkette first opened, a giant billboard in the back listed the menu items. The carhops would sit on bleachers outside the restaurant and come right up to the car to take orders.
In its first 40 years (1951-1991), the Parkette sold an estimated 19.2 million "Poor Boys."